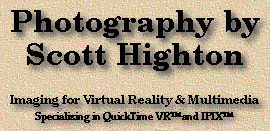 ---
Biography
Scott Highton is based in the San Francisco bay area, specializing in multimedia, corporate and location photography. He also has an extensive background in photojournalism and documentary filmmaking.

His work has appeared internationally in such publications as Air & Space Smithsonian, STERN, GEO and AOPA Pilot magazines, as well as on the Associated Press wires and in major newspapers such as the San Francisco Chronicle, Examiner and the San Jose Mercury News. His corporate clients include Apple Computer, Microsoft, Eastman Kodak, Disney, BMW, Toyota, Teknekron Communications, Sunset Magazine, Polaroid, Mervyn's, Dayton-Hudson and Toshiba.

His documentary film credits include over 60 films for PBS, Discovery Channel, Arts & Entertainment, Turner Broadcasting, NATURE and the National Audubon Society.

He was the first outside photographer brought in by Apple Computer to use, evaluate and test QuickTime VR, and he has since become a recognized expert in QuickTime VR shooting techniques. He was also one of the earliest photographers to work with Internet Picture's PhotoBubble technology (iPIX), and has served as both a consultant and high-end iPIX photographer for Internet Pictures, Inc. He has photographed QuickTime VR and iPIX sequences in a variety of challenging environments, including underwater (the first one to do so for both technologies), in a NASA wind tunnel, aboard an America's Cup boat and on remote locations in Alaska, Russia, Africa and the Galápagos Islands.

His work has been featured in a number of landmark multimedia projects, including the original Apple Company Store demo CD (QTVR Authoring Tools Suite), the Masco Virtual Reality Showhome CD, the 1996 and 1997 Toyota model year CDs, and TerraQuest's Virtual Galápagos online expedition.

He has been a national director and officer for both the American Society of Media Photographers (ASMP) and the Media Photographers Copyright Agency (MP©A), and was a founding president of the Bay Area QuickTime VR Association (BAQTVRA). He has been involved with digital imaging since 1990. He has authored several industry white papers and has lectured on a number of professional photo technology panels.

Member:
American Society of Media Photographers (ASMP)
National Press Photographers Association (NPPA)
International Virtual Reality Photographers Association (IVRPA)
---
Contact info:

E-mail: Click here

Mailing:
Photography by Scott Highton
996 McCue Avenue
San Carlos, CA 94070-2525
USA

Phone:
(650) 592-5277
---